LIAR, LIAR!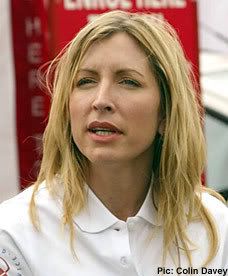 One legged pants on fire! As you've probably read, Heather Mills has gotten a team of lawyers together to take action on some, "false, damaging and immensely upsetting" details have been leaked to the media. Tough shit, bitch. What did you THINK was going to happen when you launch a media circus against Paul McCartney?

Now, here comes the fun part. Kate Moss is the latest to come out and expose Gimpy McGimp as a liar. The Sun reports:

Kate, 32, has told Macca's dress designer daughter Stella, her best friend, that claims in Heather's leaked divorce are "utter b******t".

At one point in the papers, one-legged Heather said she had to crawl to the toilet at night without her false limb on because ex-Beatle Paul, 64, objected to her using a bedpan in their bedroom.

A friend of Kate said: "Kate reassured Stella that she knew Heather was a liar because she had seen her hopping around.

"She said she was 'jumping around like a f****** gazelle' and is prepared to swear to it, in court if necessary."
Yes, she's been running like a gazelle with her lies and her bullshit too. But she'll eventually run into something that will stop her in her tracks. Like the truth.
The Sun
also has a printed a run-down of Mills' heaping pile of steaming bullshit:
LIE 1: Lady Mucca frantically denied working as a prostitute. But in July it emerged she was a £5,000-a-night hooker whose clients including arms dealer Adnan Khashoggi and an Arab prince.

LIE 2: Heather told Sir Paul she had only been a topless model. In June we revealed she was snapped in a string of pornographic poses for a German sex manual.

LIE 3: Her first husband Alfie Karmal has branded her a compulsive liar who left him for a ski instructor called Milos.

LIE 4: Former childhood pal Margaret Ambler threatened to sue Heather over her claims they were abducted and sexually abused as kids. Margaret, 40, insists it was only her who suffered the ordeal.

LIE 5: Mucca — who as a teenager admitted shoplifting — stole the identity of a top investigative reporter with the same name, Heather Mills, in a bid to land a TV job. The real journalist said Heather pretended to be her in meetings with telly executives.

LIE 6: Heather's dad Mark, 65, says she made up stories about him abusing her as a child.
For illustrative purposes, I would like to show the following. The Gazelle, would represent the lying whore Heather. The tree, represents the truth. And the lions I would like to think represent Paul McCartney and his lawyer.
I am deep like the ocean, and just as dirty baby...yeaaaaaaaaaaa.