2006 AMAs DISAPPOINT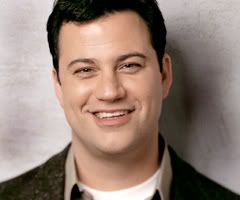 When aksed about hosting the 2006 American Music Awards, Jimmy Kimmel
was quoted as saying
:
"Anything can happen," he said. "A couple of years ago when I hosted, Anna Nicole Smith had her famous flip-out on the air. And that was just all I could possibly ask for. I tried to get them to invite her again. … Or somebody with a problem."
After the
Anna Nicole debacle
, and being there when Courtney Love
did her drunken stint
at Pam Anderson's roast, I'm sure Jimmy Kimmel was as disappointed as I was with last night's toned down, uneventful award ceremony.
The best part was the opening monologue in which Jimmy made his K-fed jokes. He said his new album was the only release he had that didn't get anyone pregnant. He also said that it's unfair that people compare him to Vanilla Ice; because Vanilla ice at least had a hit. He said that Kevin Federline was a no-hit wonder.
He then introduced K-Fed, and a look-a-like descended from the ceiling and promptly put in a large wooden shipping box; screwed shut by stage hands, put on the back of a truck, driven down the road and tossed off a pier. When the camera cut back to Jimmy, his remark was, "A whole school of fish just got pregnant". Pan to audience; everyone is laughing hysterically.
If that doesn't "bring it home" for K-Fed at this point, I don't know what will. I'm imagining he watched it in the sight and sound department of a Wal*Mart somewhere. I can only hope there was an obese woman in polyester nearby to laugh at him. That would be sweet poetic justice.
Right after that, Jimmy Kimmel announced loudly that the first presenter would be "bachelorette Britney Spears"; and the place went crazy. Of course she was chewing gum at first but seemed to realize it and stopped. She then, turns away from the podium and shows us the back of her head. I think it was to make sure we saw she had her extensions in right after
this was all over the internet yesterday
. (they still are the worst I've ever seen though).
Below, is Britney presenting at last night's awards. For a low-down on who won the awards last night,
click here
.