DISSECTION OF AN ALLEGED CEREMONY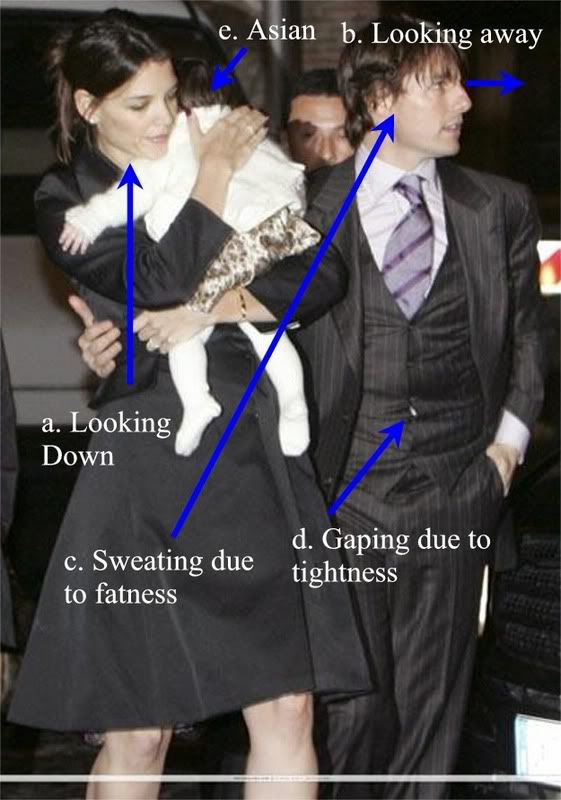 It was reported today that TomKat got married in a civil ceremony.
Hollyscoop reports:


We have just gotten word that TomKat has already tied the knot in Rome. The couple said their I do's in an Italian civil Ceremony last night. They had to have this ceremony prior to the fancy-shmanzy wedding coming up this weekend in the castle. The two were even photographed leaving the Town Hall with none other than Baby Suri!
It was also reported today that Tommy-boy couldn't fit in his suit.
Per the Daily Mail
:
The clothes were delivered yesterday to the couple's £2,500-night-penthouse suite at the Hassler Hotel on the Spanish Steps in Rome.

But within hours Italian news website TGcom quoted insiders saying the actor, 44, was "having trouble getting into his suit as he was slightly overweight".
Armed with these "facts", we can now begin the dissection of the above photo depicting the newlyweds leaving the alleged civil ceremony. Shall we?
Exhibit A.
Katie looks distressed and is looking down, not the epitome of a blushing bride, now is she?
Exhibit B.
As you can see, Tom is also looking away from both his wife and his child. The thumb around Katie's waist is facing up and out, in a "hitch-hiking" stance. Clearly, he wants a ride out of there, and STAT. Perhaps to cruise for the cock.
Exhibit C.
Tom is disheveled and sweating. Definitively exemplifying his descent into blubberdom.
Exhibit D.
Tom's suit is gaping due to his affliction: DIB (descent into blubberdom).
Exhibit E.
That kid is Asian, I don't care what anyone says.
And what is the point of all this? Just the fact that his suit is snug, completely
aligns with my theory
that Tom Cruise has an emotional eating disorder; which all goes back to the fact that he loves the cock. I love science.