FOR WHOM THE BELLS TOLLS...
Do not ask for whom the bell tolls, it tolls for thee.
–Ernest Hemingway
It's all over but the crying, my friends. I'm sure you've already heard that Katie and Tom have finally tied the knot over the weekend. And judging by the pictures above, they weren't stressed at all.
Here's a quick download since you've no doubt seen it elsewhere.
Star Magazine reports
:
Katie wore an off-the-shoulder bridal gown by Giorgio Armani and carried calla lilies wrapped in leaves of galax and steelgrass. The gown featured a train in ivory silk cadis adorned in Valenciennes lace and Swarovski beaded crystal embroidery, featuring a delicate crinoline frill at the shoulders and a silk soleil border around the hem. Holmes also chose an ivory tulle floor length veil and ivory silk shoes.

Tom wore a navy blue two-button satin peak lapel single breasted Armani handmade tuxedo with flat front trousers and matching four-button vest. The tuxedo was complemented by an ivory silk French collar shirt, of the same fabric as the bride's gown.

The wedding party included Isabella and Connor, Katie's sister Nancy Blaylock as Matron of Honor and Tom's best friend David Miscavige as the Best Man. Holmes' two older sisters, her brother, and parents were also on hand, as were Cruise's three sisters and mother Mary Lee. Katie was walked down the aisle by her father during the traditional marriage ceremony, which was performed by a Scientology minister.

After they took their vows, the couple celebrated with family and friends at a wedding reception which included colorful and elegant floral décor accented with red roses. TomKat was serenaded by world-renowned Italian vocalist Andrea Bocelli. Guests enjoyed a multi-course meal followed by five-tiered white chocolate wedding cake which was decorated with marzipan roses, and was studded with white chocolate chips and featured white chocolate mouse and white chocolate cream filling.

For the reception, Katie changed into an asymmetric champagne Giorgio Armani Privé evening dress made of silk organza and decorated in Swarovski crystal beads. It looks like Tom really did give Katie a fairy-tale wedding!
And here is the lovely wedding picture in which you can see Tom clutching to Katie for dear life; and the expression on his face is what? Nausea? Trepidation? Afraid he may have to actually consummate the marriage? Not to mention, he's got 5:00 shadow, what the fuck is up with that? And there are three of them in this picture. You don't see it? You don't? Yes, you do. Do you really think they NEED to step aside so you can see the light? If they stood in front of it it would still give off that nice effect eminating off the wall..the reason they don't obstruct it?
It's the light of Xenu. Thanks for coming, Xenu. Have some cake.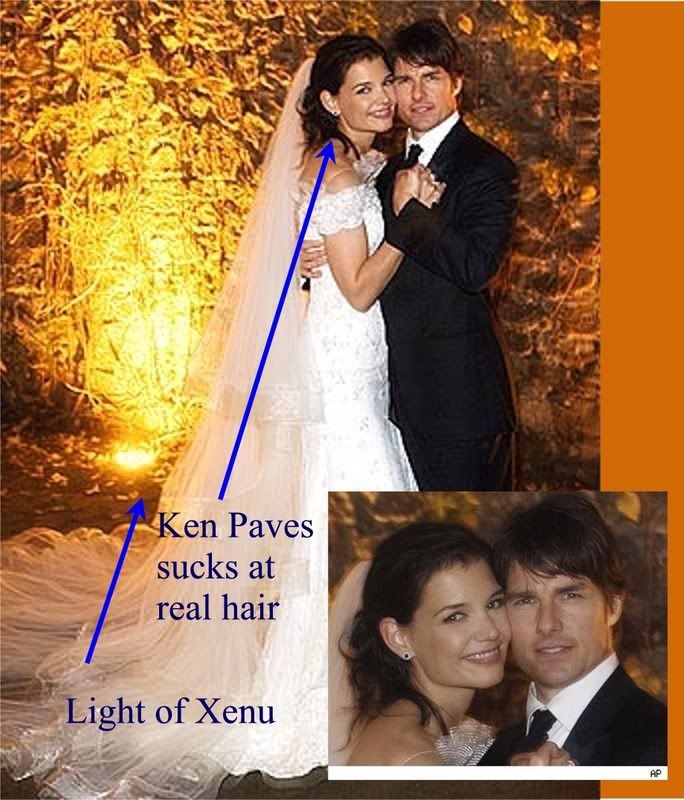 On a side note,
Jessica Simpson's Paves
did a SHITTY job on her hair. That's what happens when you hire a guy that puts in hair extensions, not a stylist. Or maybe he was really there for Tom.