KANYE WEST NEEDS HIS BINKY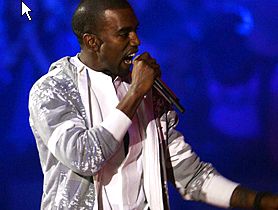 Whaaaaaaaaaaaaaaaaaaaa. What a douche. Kanye West thinks so highly of himself, that when he didn't win the award for best video last night, he stormed the stage and spewed a narcissistic rant. TMZ reports:

Kanye West was so miffed at not winning the award for Best Video last night at the MTV Europe Music Awards that he stormed the stage and went on a bizarre, expletive-filled tirade to protest.

Even though he'd won the award for Best Hip-Hop Artist earlier in the evening, West jumped out of his seat in Copenhagen when Justice and Simian (no, we haven't heard of them either) won the Best Video prize for "We Are Your Friends" and crashed the award presentation. He told the stunned audience that he should've won for his "Touch The Sky" because it "cost a million dollars, Pamela Anderson was in it, I was jumping across canyons." And, he added, "If I don't win, the awards show loses credibility."
Kanye? Do you want your binky? Kanye.......Kanye? Can you hear me all the wayyyyy up there on the platinum pedestal you put yourself on??? I think you should come down...you aren't getting oxygen to your brain.