KEVIN COSTNER WILL AGE THE OLD-FASHIONED WAY
Kevin Costner has learned from others' mistakes and refuses to disfigure himself by giving in to plastic surgery.
PR-inside reports
:
Hollywood star KEVIN COSTNER insists he will never have cosmetic work done to change his ageing body.The 51-year-old actor, who was once one of Hollywood's hottest stars after starring in films such as THE BODYGUARD and DANCES WITH WOLVES, refuses to use surgery to look more like his younger self.

He says, "I am never going for a hairpiece, dye or nips and tucks. You will always have to take me as you find me."We all have our vanity. We can all hear whispers. In my case, they still say, 'He's taller than I thought.' "But there will come the day when they will say, 'He is much older than I remember him.'"
Well, at least he won't be hearing horrified gasps saying, "
What the fuck happened to him
?"
There are three male celebrities who should have filed a malpractice suit as soon as the anesthesia wore off.
First up: Kenny Rogers. Who apparently, did not know when to walk away or know when to run.
Then there is Mickey Rourke: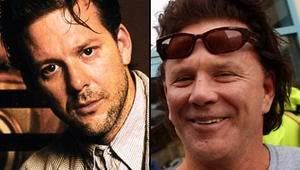 Then we have Bruce Jenner.
And there you have it. The Trifecta of Malconformation. Which just made me wonder if the Island of Dr. Moreau is real. With monkeys for doctors and Jessica Simpson clones for nurses. I just scared me.