POPOZAO! K-FED IS ALL DONE!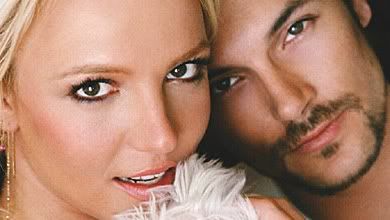 Where a woman is scorned, Hell's fury can't be far behind. This is right up there with Whitney and Bobby, baby! It is all over but the crying for K-Fed.
TMZ reports
:
TMZ obtained the legal papers, filed today in Los Angeles County Superior Court, citing "irreconcilable differences." In her petition, Spears asks for both legal and physical custody of the couple's two children, one-year old Sean Preston and two-month old Jayden James, with Federline getting reasonable visitation rights.

As for money, sources tell TMZ the couple, who married in Oct. 2004, has an iron-clad prenup. Not surprisingly, Spears is waiving her right to spousal support. She's also asking the judge to make each party pay their own attorney's fees.

Spears gives the date of separation as yesterday, the same day she flaunted her incredible revamped physique during a surprise appearance on David Letterman's show. Sources tell TMZ there was no single reason for Britney pulling the plug, rather, it was "a string of events."
And it only gets better. Details of the pre-nup
go something like this
...(ready boys? hit it!):
K-Fed won't touch a penny of Britney's money. All the millions belonging to Britney will stay that way.
The mansion will be divided 50/50.
Any gift given worth over $10,000 will go back to the original purchaser. This includes a custom-built motorcycle Brit gave K-Fed for Christmas 2 years ago.
She will still support him for a little while longer. Brit will pay Kevin $30,000 a month for the period of time that is half the length of their marriage. Meaning he'll be well sneakered until at least a year from now.
Spears won't pay child support. Federline is still responsible for supporting his other two children with previous baby momma Shar Jackson.
You think
we're
enjoying this? Somewhere…Shar Jackson is laughing her fucking ass off.