WANT TO CLONE JESSICA SIMPSON?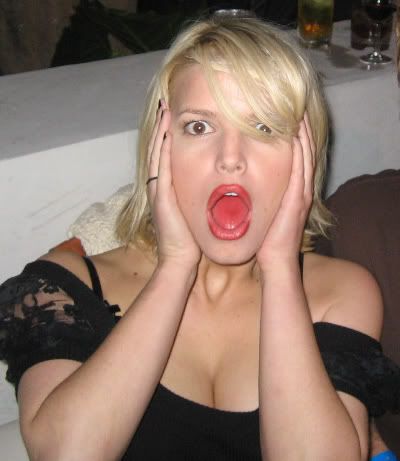 In an attempt to make some quick holiday cash, a resourceful e-bay seller tries to lure bidders to buy a chewed up piece of gum, with the promise of being able to clone Jessica Simpson.
PR Inside reports:
Jessica was chewing gum when shooting started and asked if we would mind her putting her gum in a napkin on our table. I joked that I would sell it on eBay. She said, 'Go for it. You might make 99 cents.' "Here's that pale blue gum. I forgot I had this, but glad I found it. It was in her mouth so it has her DNA on it so you can clone her."

As well the gum, the seller will also provide a letter of authenticity, some gossip from the film and a "head shot to the winning bidder so that they have proof that I am sitting next to Jessica in the movie." The highest bid for the unusual lot currently stands at $55. The auction ends on Monday (12.04.06).
Okay, so I have this brilliant idea of taking the gum and using it to clone Jessica Simpson so I can sell her as the first ever living blow-up doll. Or open my own brothel. The possibilities are endless, really.
So off I go to the ebay site and I notice two potential problems for those who may want to clone Jessica Simpson to create a real life blow up doll. First, the seller is holding the gum in his hand. Right there, this person's DNA is on the gum as well. And then I clicked on the picture to enlarge and I didn't like the looks of the hand so I'm not digging the DNA collaboration. (he claims you can' get DNA on something from touching it,
but you can
. Then
click here
and you'll see prosecutors extracted DNA from a pistolgrip.)
Then, I read the description and "I forgot I had this" struck me as odd. He then goes on to claim that he had it wrapped in a napkin and in a plastic bag. But didn't mention any of that until he got a plethora of questions about it. So I'm doubting the validity of what he says. And I'm thinking at this point, that gum could have been anywhere, attracting random DNA from everything around it like a magnet. I think if you bought that gum and cloned it at this point, you would get this:
I might go for it anyway, because I need someone to carry my stuff. Want to bid on the DNA cocktail?
Click here
. If all else fails, you could make Jessica pay child support. Or give her to Dr. Moreau so he can
continue his scientific work
on the island.