THE THREESOME FROM HELL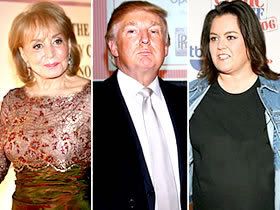 Rosie O'Donnel is such a hard-core lesbian that she gave herself the kiss of death.
Page Six Reports:
The tension between "The View" creator Barbara Walters and co-host Rosie O'Donnell, sparked by O'Donnell's feud with Donald Trump, boiled over yesterday morning when the portly comic called Walters "a [bleeping] liar."

The fight started around 8:30 a.m. when Walters, back from a two-week vacation, walked into the hair and makeup room at ABC studios and tried to hug O'Donnell, whom she hired onto the popular show.According to spies, O'Donnell recoiled from Walters' touch and yelled, "You kept me in the newspapers this whole time!"

Both "View" producer Bill Geddie and Walters tried to calm O'Donnell. Walters told her, "I did everything I could to squash the story" - prompting Rosie to scream, "You didn't call me for 10 goddamn days, and you didn't tell me what you were going to say on television!"

During her vacation, Walters issued a carefully worded statement saying, "I'm sorry there is friction between Donald and Rosie. That said, I do not regret for one moment my choice to hire Rosie O'Donnell as the moderator of 'The View.' "

After O'Donnell's outburst at Walters yesterday, Geddie jumped in and told her, "You've crossed the line." O'Donnell retorted, "Cameras are now outside of my house where my wife and kids are." She turned to Walters and said, "You went all around this and never called [Trump] a liar. You never said, 'Donald is lying.' You never called him a liar."

When Walters tried to defend herself, O'Donnell erupted, "Are you looking me in the face and denying you didn't tell him you didn't say this? You're a [bleeping] liar."
And it gets better. Once Trump heard of the outburst, he sat his ass down and wrote Rosie a letter.
ETonline reports:
"Dear Rosie,I hope you had a wonderful vacation with your wife -- you needed the rest.An article in today's New York Post indicates that you blew up at BARBARA WALTERS for being a 'liar.' Actually, I don't blame you, but in fact she lied to both of us! After your maniacal and foolish rant against me two weeks ago, Barbara called me from her vacation (I did not call her) in order to apologize for your behavior. She had heard that I was going to retaliate against you and tried to talk me out of it. She very much wanted me to go on the show as soon as she got back so that she could 'patch things up' (I said no). To be exact, she said that 'working with her is like living in hell' and, more pointedly, 'Donald, never get into the mud with pigs' and, 'don't worry, she won't be here for long.' Barbara knows exactly what she told me over the phone and she has to live with it. Perhaps that's why her initial statement was so mild!

In another incident, when I saw her eating at Le Cirque about two months ago and asked how 'Rosie was doing,' she sarcastically rolled her eyes and said 'Donald, do you have to ruin my meal.'In any event, you have a good reason to be angry. Please give my warmest regards to Kelly!

Sincerely,Donald J. Trump
I'd like to call this whole debacle sophomoric, but I think sophomoric lends itself to a maturity that doesn't exist between these three. This is more like a fight in a schoolyard sandbox. Rosie, peed on Barbara's sandcastle, and Donald is kicking sand in both their eyes. And I'm the sly chic by the swingset taking bets before Sister Hiltruda comes out. 10-1 Rosie gets kicked out of school in the next 3 months.